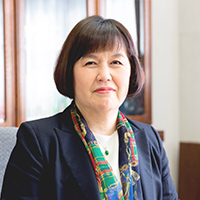 Chancellor Okiko Miyata
Kobe Pharmaceutical University was founded as Kobe Women's College of Pharmacy in 1932. It was developed from Kobe Women's School of Pharmacy, which was founded in 1930 as the only women's pharmacology training institution in Kobe and farther west of Japan. In 1949, it became Kobe Women's Pharmaceutical University, and since 1994, it became coeducational and is called Kobe Pharmaceutical University.
In 2006, a six-year pharmacy education has started and similar to a physician, students study under a six-year curriculum. They are required an advanced level of education, and only those who have completed the courses and graduated are qualified to take the National Pharmacist License Examination. In recent years, the medical care and the pharmaceutical sciences have advanced at a tremendous pace, and are becoming increasingly sophisticated. Our desire is to graduate those who become pharmacists and will contribute to society as a professional at pharmaceutical companies, hospitals, and many other areas.
Chancellor Okiko Miyata