Facilities equipment introduction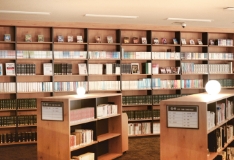 Library
As a pharmacy-related university library, the quality and quantity of our collections and holdings are well developed and extensive. The Library has been highly rated for its ease of use, including functionally designed reading rooms, study rooms, audio-visual rooms, as well as areas for theme-specific exhibits with well-thought-out book selections. In addition, it efficiently provides support for education and research activities through the availability of numerous electronic journals as well as information search services and reference services.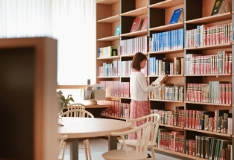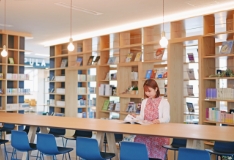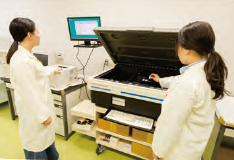 Institute of Radioisotope Research
In pharmacology, the use of radioactive (radioisotope) tracers is indispensable in areas ranging from basic research to development of new drugs. Each year, the use of the radiation measurement rooms and collaborative laboratory spaces in the Institute of Radioisotope Research yields numerous outstanding research results. In addition, the Radioisotope Management Office manages the radioisotopes under strict rules and regulations.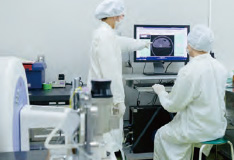 Institute of Laboratory Animals
The Institute of Laboratory Animals has been designed to enable verifiable experiments to be conducted, such as testing the efficacy and safety of drugs, and features an animal rearing environment that utilizes a unidirectional airflow system based on the latest technology.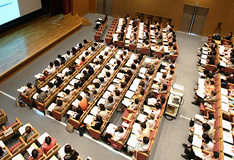 Extension Center
To provide broad-based professional development opportunities to pharmacists, the Extension Center was established as an organization that promotes lifelong pharmaceutical education and training. A variety of programs have been promoted, including postgraduate training courses, a series of recurrent seminars, and practical intensive courses for pharmacists. The results have been highly evaluated, and the Extension Center was granted accreditation by the Council on Pharmacists Credentials (CPC) as an implementing organization under their lifelong training accreditation system.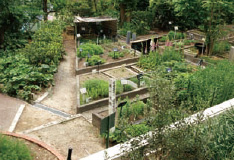 Medicinal Botanical Garden
The Medicinal Botanical Garden was established based on the standards for setting up pharmacology-related departments, requiring a botanical garden to be set up as an adjunct facility. It provides research material and education using actual medicinal plants, and operates with the goal of protecting valuable medicinal plant resources and wild plants. The Garden occupies the northwest part of the school grounds and is constructed in a terraced-field arrangement using the slope at the foot of the Rokko mountain range, which rises behind the City of Kobe. It covers an area of 2,776 m2 at an altitude of 100 meters. The site is divided into an exhibition plant garden registered in the Japanese Pharmacopoeia, into a garden of other medicinal plants, a nursery, and a medicinal arboretum. On the slope on the north side, visitors can walk along paths lined with medicinal trees planted like natural woodlands, including the Amur cork tree and the duzhong tree (Eucommia). A greenhouse built at the entrance also features a "cool house" with a belowground cooling system, enabling the successful cultivation of plants that grow at high altitudes and in cold climates, in addition to plants from warmer regions such as the tropics and subtropics. The Administration Office has illustrated guides and other brochures available of the plants, and plant data can also be viewed online by computer.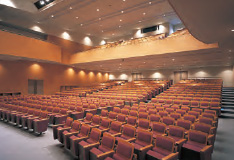 Kikyo Memorial Hall
The Kikyo Memorial Hall features a spacious floor design and has a seating capacity of 695. It is used for a wide range of purposes including university entrance and graduation ceremonies, as well as used for postgraduate training programs, academic conferences, lectures, examinations, and other events.